NEW DELHI: Why do illegal kidney racket flourish in the country? The data on the gap in demand and supply of donors provides the answer.
Nearly four lakh people suffering from end-stage kidney failure need a transplant in the country and only about 8,000 get it.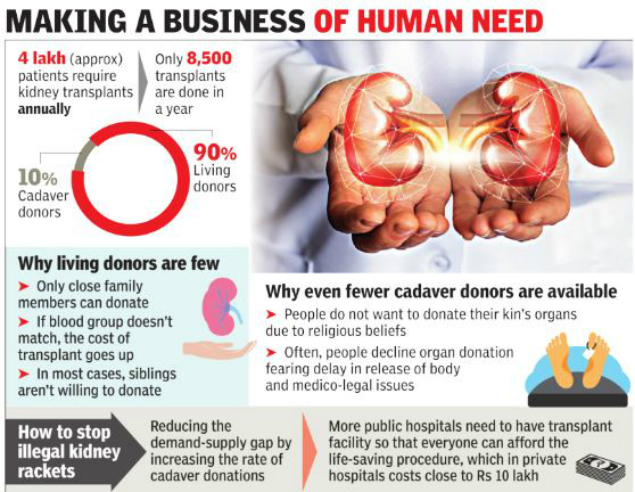 A kidney can be received from two sources — living and deceased donor. Nephrologists said 90% kidneys used for transplant come from living donor, a close relative or a friend. Only 10% comes from cadaver donors, persons who have been declared brain dead. The rest, who are unable to undergo a transplant, survive on dialysis which costs Rs 20,000-Rs 25,000 per month in a private setting, or die waiting for a cadaveric donor.
The Transplantation of Human Organs Act states that close relatives can donate one of their kidneys. The Act also allows unrelated donors to give one of their kidneys if there is sufficient evidence to show they know the recipients for a long period, and there were no pressure and financial transactions involved.
Because the possibility of getting a cadaveric donor is scarce and relatives often don't come forward to donate, many people try to use money to get the organ.
Dr Sanjay Aggarwal, professor and head of nephrology at AIIMS, said immediate siblings are mostly unwilling to donate. An analysis of kidney transplant data at AIIMS in 2014 showed after parents, wives top the list of donors.



The police investigations have revealed in the past how racketeers lure poor people to donate organs for money. As per a report published by World Health Organization in 2007, India was a known organ-exporting country, where organs from local donors were regularly transplanted to foreigners. It decreased with the enactment of The Human Organ Transplantation Act of 1994. The drop, however, was followed by a booming market of donors in other countries like Pakistan and the Philippines, which in turn affected the market in India, the WHO report said.
However, underground organ market is still existent and this is reflected in the police investigation, a expert said.
Dr Dinesh Khullar, director and head of nephrology at Max Saket, said promoting cadaver donations can help reduce the gap in demand and supply and illegal trade of organs.
The reason behind lack of cadaver donation is lack of awareness and unwillingness due to religious beliefs. But there have been instances when families haven't been able to donate due to lack of retrieval facility in hospitals. Haryana, Punjab and HP have very few retrieval centres due to which organ donation rates are poor. In Delhi, most state-run hospitals do not have a licence to retrieve organs, the expert said.